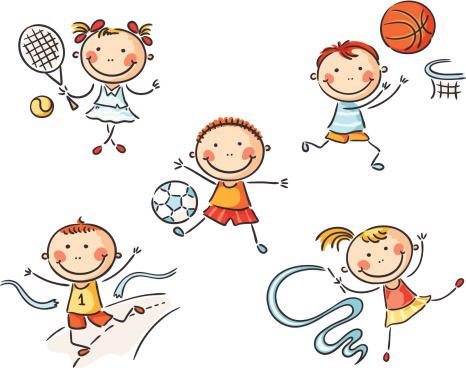 In the world we live in, we all know that P.E. is of huge importance in school. Not only does it enhance concentration and behaviour but even more seriously, for many children it can be their only stints of proper movement and exercise all week, and had we more time in the teaching week, it's definitely something that I would like to see increased in terms of time allocation. One curricular area which is really very frequently taught in isolation however, is P.E. We go out, we do our activities and back in we go and on to the next part of the day. However, Physical Education is something that can actually be quite easily integrated into other areas of the curriculum , particularly literacy.
Physical Education, in fact, is a subject that we can use as a wonderful, ready made stimulus for literacy. The experiences are easily to relate to because the children have taken part (or will be directly involved) and it can present students with another incentive to make their efforts in P.E more meaningful.
How can I combine P.E and literacy?
Writing
Procedural Writing
Report Writing
Recounts
Reviews
Poetry
How I feel... - why not use this as an introduction and closure exercise, how I feel before and how I feel after. Ties in nicely with self assessment too.
PE Cartoons - drawing scenes, story mapping, writing dialogue
Mind Mapping / Brainstorms
Self Assessment activities
Creative Writing - why not invent your own games?
Promote/Encourage use of descriptive language
Oral Language
PE can be a great opportunity for oral language development. Perhaps, you're walking laps, jogging - why make the children do it in isolation? Pair them up, encourage them to chat with the partner. Maybe challenge them to talk about something in particular for a given time. It's a nice way of encouraging the children to break out of their comfort zones and talk to someone different that they usually would. This could also be an activity of particular benefit if you have any EAL pupils.
There are so many great team / buddy games that are ideal for encouraging the development of oral language. One in particular is 'Blindfold Buddies'. Put the children into pairs, one is blindfolded and the other must guide them around an obstacle course or path using only their voice to help and give instructions and directions.
Pair, share & review - a nice form of self assessment with a peer.
Debating
Reinforcement of vocabulary
Recounts
Reviews
Reading
Reading about various sports / games.
Reading sports reports in newspapers.
Reading instructions - why not let your class set up or carry out some games by themselves. For example, this year, one of our activities for the 1916 commemorations was learning how to play games that children in that era would have played.
Providing opportunities to read the written work of peers about P.E. activities / games.
Reading Poetry about sports / PE. For example, 'Gym Class' by Neal Levin.
Familiarisation with thematic vocabulary.
Scavenger hunts - depending on the age of your students, think letter / sight word hunt for the infants, puzzles or riddles for older classes - endless options!
These are but a few of the ways you can incorporate literacy into your instruction of P.E, and vice versa.
If you've any other ideas you would like to share, be sure to let me know.