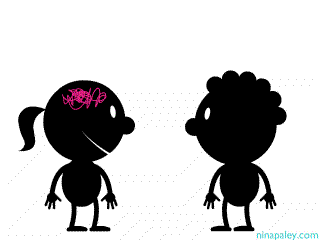 Oral language is the foundation for literacy development. By fostering language development we're enabling our learners to become more successful readers and writers. Humans are hard wired to talk. It's what we do best and by limiting talk time, we're limiting our learning and limiting opportunities to show what we already know and what we've learned.
As teachers, we are always on the hunt for transitions & strategies to open & conclude lessons. Sometimes less is more and we can overlook what's already at hand and what many of the children in front of you may be bursting to do - TALK!
Here are three strategies of mine to maximise some talk time in the classroom!
1. Ready, steady, TALK!
In years gone by, it seems as if many were allergic to noise or talk during transitions or interruptions. (Hands up who remembers 'Téigh a choladh!' or 'Heads down!' ?)
Sometimes the best transition is to let the children decompress by having a quick chat with the person beside them or those at their group. Ready, Steady, Talk is a simple but useful transition I regularly used with Infants and Senior Classes. I found it allowed for a lot more attention and focus during the next lesson as children got the chance to get burning issues off their chest, relax after an intense learning session and simply practice communicating with their peers. From time to time you can mix it up by setting a topic of discussion, challenging the children to go and talk to someone at a different table or someone who they haven't spoken to in a while. Set a time limit of 2-3 minutes and off they go. The routine is easy to follow and the children look forward to it and it is a great opportunity for you, the teacher, to listen, observe or have a chat with a particular pupil too! Use the time wisely, plan your intentions and a discrete, informal oral language opportunity presents itself before you!
2. Hometime High 5
I love an exit strategy. I love an exit strategy even more if it includes an opportunity for the students to think and talk too. This my Hometime High Five exit strategy - everyone leaving get's a high five and needs to tell the teacher one thing they enjoyed about that day at school. Change it up every so often to get them thinking outside the box - something they found difficult, something they would like to do again - whatever, once it gets the children talking & sharing!
3. Talk, Listen, Transition!
If you're fond of a jingle, this is a nice one to invite children to talk & listen to each other as part of a transition between learning or during lessons!
Let's make time for talk a resolution for 2020!
If you would find these posters useful, you can download them here for free. If you're using them in your classroom, be sure to share a picture of them in action on Instagram!
© C.Fiorentini - Little Miss Teacher Blog 2019
. Resources, excerpts and links may be used, provided that full and clear credit is given to
www.littlemissteacher.com
with appropriate and specific direction to the original content.